SO WHAT IS A SPIDER WORTH? A BUNCH OF PERSPECTIVES
The most interesting opinion I've read recently had to do with MGBs but applies to Spiders as well. In an MGB restoration book, the author opined that no mass produced sports car can genuinely be described as being "in short supply," so no premium for rarity should be paid. Spiders are like clichés - there'll be another one along any minute (especially if you read my stuff). Don't leap into any car for fear it's the last one in that condition at that price - it most assuredly isn't.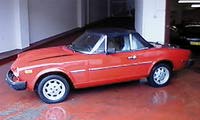 I suspect that persons possessing what they believe to be an $8000+ Fiat 124S Spider may take considerable umbrage at what follows. I do believe there are enough bargains to be had in a Spider that anyone paying over $5000 had better be sure that they're getting something very, very special. I'm familiar with the "Greater Fool" theory—but to those who are sure they can sell their car at double the market rate are hereby directed to obtain a copy of Robert Lewis Stevenson's short story "The Imp in the Bottle," the ultimate tale of "buy low, sell lower."
The folks at Fiat Plus recently offered the opinion that a good running, good solid body (no rust) car will run from $3000 to $8000. I thought the guy with the $11k 98-point `83 cited below was smoking something, but perhaps that is a fair premium if the car is truly a trailer queen. I think this same owner later opined that he's got an $11,000 Spider - in his garage … guess it didn't move at his asking price, and he held onto it. Good for him. IF YOU THINK YOUR CAR IS WORTH $X, STICK TO YOUR GUNS. It would be very interesting to see more prime Spiders at auction, where real value is set in a public venue. This, by the way, is probably the fastest way to send prices up, if that's your intent. Put that Spider into the company of other stars and watch the halo effect at work … .
The never titled, never registered, $14,950 `80 in New York (from a Long Island Jaguar dealer's personal collection) is probably the actual limit for any Spider - it's as new as a 16-year-old car can be, and it's only $15 grand. By the way, that is the only car in the Index with an actual 0 miles on the odometer (as alleged, I mean, advertised) - all other 0s in the mileage column are, uh, laziness on my part.
That guy in LA is STILL having trouble adjusting to life on Earth, IMHO - but not because he's asking $22k. No, it's because he turned out to be from Vancouver, BC and the $22,000 was in loonies - who knows why he didn't make that clear in the LA paper. I found the same car later in a BC ad. Actual price in `Murican dollars is $16,280. The correction has been made.
Another country heard from is the Kelly Blue Book, which suggests that late model 124S cars are worth between $2525 for a 1982 in "good" condition to $5250 for a 1985 in "excellent" condition.
Collector Car & Truck Prices, a publication of VMR (Vehicle Market Research) International, gives the following prices for 124S cars. These prices are derived from "various sources" throughout the US:
Year(s)
Poor
Fair
Good
Very Good
Excellent
1968-71
$350
$975
$2200
$3550
$4825
Prices for 1438cc 96hp. Add 4% for 1608 104hp (if as fitted originally)
1972-73
$350
$975
$2200
$3550
$4825
Prices for 1608cc 90hp
1974
$325
$925
$2200
$3500
$4825
Prices for 1756cc 92 hp engine
Note the distinctions between the categories, which track closely with those used by Old Cars Weekly and throughout the car collecting hobby.
Don't like those prices? Maybe you could export your car to the United Kingdom. I gather RHD 124S Spiders are none too common. A British enthusiast magazine, Classic and Sportscar, with which I am most favorably impressed, offers the following prices for all years of 124S Spiders:
Show: $12,080 (Show quality to #1 condition)
Excellent: $9,060 (a #1 to #2 condition)
Good: $6,795 (a #2 to #3 condition)
Hmmm … but as you'll see in the index there's a UK concern selling 124S starting well above the excellent price, so inflated asking prices aren't unknown on the other side of the pond, either … .
The moral? Look for a quality car, but wait for the right price, too. It is almost always less expensive to buy a car with work in it than to put the work in it after you buy—note the ads stating "I put $4000 into this car but I'll sell it for $2500 OBO."
Return to the Table of Contents