WHAT DETERMINES PRICE?
According to Old Cars Weekly:
A "Show Car" has been treated to a very expensive concours quality, frame-off, every-nut-and-bolt-is-original restoration. These cars DO NOT GET DRIVEN! They may be priced in excess of a #1, or "Excellent" car.
A #1 or "Excellent" car is a close-to-perfect original or a very well restored vehicle. Generally this means a body-off restoration, but a well-done body-on restoration that has been fully detailed may qualify. The vehicle is stunning to look at; any flaws are trivial and not readily apparent. Everything works as original. All equipment is original, NOS or excellent quality reproductions.
Old Cars Weekly expands on this definition of #1 to say, "In national show judging, a car in #1 condition is likely to win top honors in its class. In a sense, it has ceased to be an automobile and has become an object d'art. It is transported to shows in an enclosed trailer and, when not being shown, is stored in a climate-controlled facility. IT IS NOT DRIVEN! (Oooo, bummer, don't want one of those … .) There are very few #1 cars.
A #2, or "Very Good" car, is an extremely presentable vehicle showing minimal wear, or a well-restored vehicle. It needs no mechanical or cosmetic work. All areas, including the chassis, have been detailed. A beauty to look at but clearly not quite the same class as a #1. (In my recent and first experience as a car show judge (one of a dozen, thank goodness), the deciding factor was the absolute sanitary condition of a 1968 Chrysler 300 convertible's undercarriage, versus an equally appealing 1962 Corvette without the requisite chassis detailing.)
OCW adds, "Except for the very closest inspection, a No. 2 vehicle may appear as a #1. The #2 vehicle will take the top award in many judged shows, except when squared off against a #1 example in its own class. It may also be driven 800-1,000 miles each year to shows, on tours and simply for pleasure."
A #3, or "Good" car, is presentable inside and out, with some signs of wear. It has not been totally detailed but it is very clean. The body is straight and solid. The paint is shiny and attractive but may have evidence of minor fading, checking or other imperfections. The vehicle runs and drives well. The car may require some minor mechanical or cosmetic work but is fully usable and enjoyable as it.
This, friends, is your typical "excellent" Fiat 124S Spider as puffed up in classified advertisements. OCW calls this "a 20-footer. From 20 feet away it may look perfect. But as we approach it, we begin to notice that the paint has become a little thin in spots from frequent washings and polishings. Looking inside we may detect some wear on the drivers' seat, foot pedals and carpeting. The chrome trim, while still quite presentable, has lost the sharp mirror-like reflective quality it had when new. All systems and equipment on the car are in good operating condition. Most of the vehicles at car shows are #3s."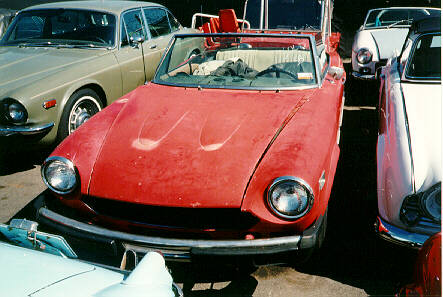 A #4, or "Fair" car, runs and drives O.K., but needs work throughout the vehicle. Body shows signs of wear or previous restoration work. Any rust should be minimal and not in structural areas. Cosmetics, body and mechanicals all need work to some degree. OLW adds, "This is a driver. It may be in the process of restoration or its owner may have big plans, but even from 20 feet away, there is no doubt that it needs a lot of help."
And that, friends, is MY `77 Fiat Spider—it's a #4 all right …. and so are the vast majority of the cars here in the Index. The median age/average mileage/average price car is a #4 car.
A #5, or a "Poor" car, (as in, "Oh, poor car! Whattid they do to you!) is in need of a complete restoration, but is complete and not a rust bucket beyond repair. The car may or may not run and drive but it is not roadworthy as is. OLW says, "This car needs everything. It may or may not be operable, but it is essentially all there and has only minor surface rust, if any. While it may present a real challenge to the restorer, it won't have him doing a lot of chasing for missing parts."
A #6 car is strictly "Parts or Salvage" and is generally worth not more than 50% of the #5 value.
Return to the Table of Contents